In the lane, last night's frost has turned the rain puddles into icy patches.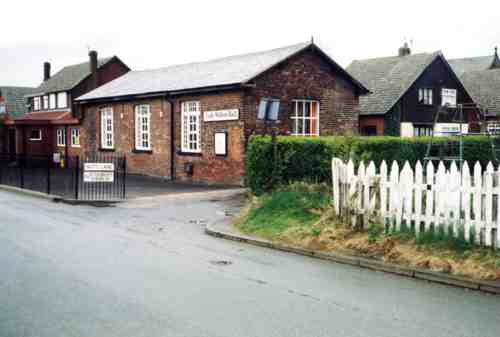 The children are enjoying sliding as they wend their way to school, that only has two rooms, one large and the other small, the larger one has to be divided to accommodate the varying ages of the seventy children who attend. Standards one, two and three occupy the half close to the cloakroom and Standard four, five and six, the half near the main door.
The headmistress teaches the higher classes and is very strict. She keeps the cane tucked under her large desk and doesn't hesitate to put it into regular use. Mrs Thompson teaches the lower standards and is a little less strict, but, likes to rap knuckles with a ruler. In the small room, Miss Fletcher takes the infants and babies classes (from three years old). She is sweet and kind so that all the children love her. The infants room has sliding doors with windows curtained by myriads of multi coloured glass beads to separate it from the larger room.

Nearing the school, the smell of fumes from the coke boiler becomes stronger and the large pipes that it heats are doing their job well as the children discover when they try warming themselves by sitting on them before lessons begin.


Playgrounds
The boys' playground is at the front, facing the lane. It isn't concreted and consists of ash and soil, little wonder the boys look grubby. The girls and infants playgrounds are concreted with a side gate dividing the two. Often in summer the girls climb over the school wall to play in Worsley's field until a teacher finds out and stops their little game. Now it is music time, with the sounds of the old piano and children's voices singing, "I 'ere shall remember that lovely Ash Grove".
Village News 1928 – Toll Bar
The old Toll Bar is due to be disposed of, no more will strangers with horse and carts nor old vans be stopped at the gate to pay toll. "You see what'll happen," said one old villager, "We'll get every Tom, Dick and Harry coming through now, we won't know what we'll be getting!"
Some enterprising person has made these miniature gates, replicas of our tall gate, and selling them, I wonder what Mr Turner will do now? He has sat in his little cab in collecting the toll, for years now.
All material on these pages is ©Edith Oughton 2006